CNC Turning Made Simple.
CNC Turning, or Computer Numerical Control Turning, may be the most advanced style of an engineering practice going back a great number of years.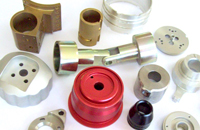 In its most basic form, CNC Turning is made up of a single cutting instrument which is positioned parallel to the surface of the turning object that is being worked on. In the earliest instances of this type of machine, the rotation of the object was accomplished by hand with the obvious difficulties of achieving consistency and exactness.
These manually operated lathes (as these rotation instruments are often known as), needed constant operational observation and tracking and ended up being time consuming and manpower intensive requiring specialist engineers to work them.
With the advent of CNC Turning, where a computer system controls the operation of the cutting tool and the lathe action, after set up, it's the computer system that monitors and checks the operation. This significantly improves the effectiveness, accuracy, speed and cost effectiveness creating high quality turned objects. A wide range of components could also now be utilized.
Lathes
The style and design of these lathes can alter significantly depending on the end application, but there are several characteristics that are common to most types. The typical qualities consist of a headstock, bed, carriage, and tailstock. Further highly developed machines are built using a heavy duty, strong broad bearing surfaces to provide balance and make it possible for  engineering with great precision. This will help make sure the resulting components that are manufactured on these devices meet the specified stress and heat tolerances and may also be manufactured repeatedly.
CAD and CAM
In contemporary CNC Turning systems, the full end to end development activity is enhanced by employing Computer Aided Design (CAD) and Computer Aided Manufacturing (CAM) programs. These systems generate a standardized computer readable document that will then be interpreted to extract the relevant instructions necessary to instruct the use of a CNC Turning machine. The final product is a precision engineered product that generates a precise replica of the CAD model.
In either CAD or CAM led processes, the complicated series of steps essential to manufacture any element is extremely automated and creates a part that closely matches the original CAD model.
The cutting tool in a Turning lathe can work inside (as in a cylinder or tube) or on the outside of the object. This cutting device generally works along two axis of motion which allows it to work to precise measures of depth and diameters.
This blend of exactness; reduced numbers of professional operators; and repeatability mean that CNC Turning changed the world of Engineering. 24 hour operations are now achievable with relatively low levels of supervision, high volumes of parts are able to be produced accurately and most importantly cost effectively. This has allowed many commercial sectors to boom and expand very quickly, especially the automotive, aeronautical and oil engineering industries.
The advent of relatively "cheap" precision engineering services also meant that the cost of delivering new devices and innovations grew at a phenomenal pace, allowing for considerable developments in the mass production of quality engineering components.
Alongside this precision engineering improvement, was the progress of the resources, in particular metals, alloys and thermal plastics. These new composite materials took advantage of the improvements in precision CNC Turning and were able to not merely develop quickly but to considerably enhance the standard of their components.
Coker Engineering Ltd are a precision engineering company based in Somerset UK, offering a true single source precision engineering service including CNC Turning.